The Southern Rivers Energy Story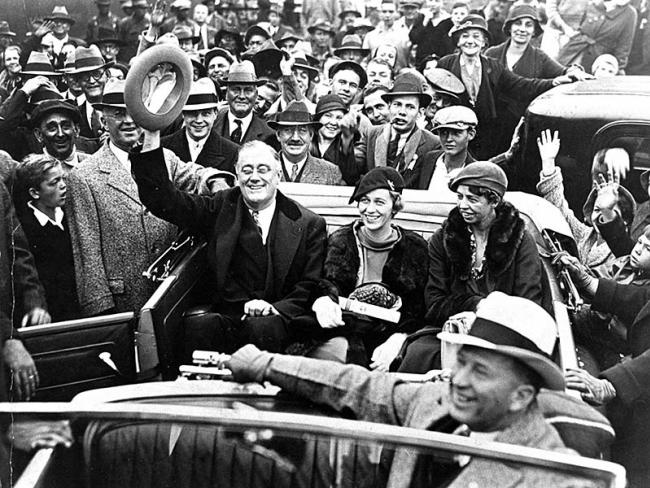 Southern Rivers Energy was originally chartered as Lamar Electric Membership Corporation in February 1938, after a group of local farmers got together to create a plan of action to bring power to their community through Franklin Roosevelt's Rural Electrification Administration.
They worked tirelessly to construct an electrical system, and on August 11, 1938, President Roosevelt came to Barnesville to symbolically throw the switch and begin our legacy of lighting the countryside. At the conclusion of Roosevelt's speech, he asserted, "In dedicating this project, I want to express my abiding faith that we as a nation are moving steadily and surely toward a better way of living for all our people. This electrification project is a symbol of our determination to attain that objective."
J.M. Abercrombie, one of the early members and later President of the cooperative's Board, said, "Lamar EMC just about rejuvenated the farm business and became the livelihood of farm people. You could get to talking and never quit talking about how much Lamar EMC means to us country folks."
Lamar EMC began with 357 members, 144 miles of power line, and 2 employees. We now employ 64 people and serve more than 16,000 members in nine counties: Bibb, Coweta, Crawford, Lamar, Meriwether, Monroe, Pike, Spalding, and Upson.
Southern Rivers Energy, which changed its name from Lamar EMC in 2005, is governed by an elected Board of Directors who represent the membership in the business of the cooperative. The cooperative's office is headquartered in Barnesville, GA.

15,000+
Members Served

Roughly 3,000
Miles of Line

18,926
Meters Connected

321,458,940
Total kwh Sold (2016)

$18.2 million
Total Capital Credits Refunded to Date
Mission
Our Mission here at Southern Rivers Energy is to be the energy supplier of choice by meeting or exceeding the expectations of the members by providing reliable and competitively priced electric service along with other compatible products and services.
Vision
As a not-for-profit, member-owned corporation, Southern Rivers Energy is dedicated to providing members the best service at the lowest possible price. We strive to be a good corporate citizen and neighbor, as well as a recognized leader in the utility industry.